Featured Program

University of Michigan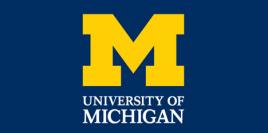 University of Michigan
Kinesiology in 
Observatory Lodge
1402 Washington Heights
Ann Arbor, MI 48109-2013 
Phone: (734) 764-4472
Visit Website
Education
University of Michigan 
Ann Arbor, MI


Physical Education 

Program Info: The Physical Education program offers students extensive preparation in education courses leading to K-12 certification, as well as providing students with strong preparation in the liberal arts. Students in the Physical Education program learn how to communicate to students of varying ages, abilities and backgrounds the intellectual, physiological and biomechanical concepts of physical activity. The Physical Education curriculum, including methods courses required of all students, emphasizes the importance of understanding the role of family, community, and school in a students educational experience, and of psychological and sociological factors that can influence learning. The directed teaching requirement provides students in the program with the opportunity of receiving practical teaching experience under the supervision of trained faculty. 

Students who complete the Physical Education program will receive a Bachelor of Science (BS) degree in Kinesiology and a Michigan Secondary Provisional Certificate.